(11/2/19) By Joe Shivak, Stockton, CA … Shane Golobic won the King of the West by NARC Fujitsu Sprint Car Series season finale at the Stockton Dirt Track Saturday night, while D J Netto was crowned the overall champion.
Golobic drove his familiar Matt Woods Racing NOS Energy Drink No. 17w from the pole position, leading all 30-laps around the San Joaquin County Fairgrounds oval.  In a race which saw a minimal amount of caution periods, Golobic faced few threats for the top spot.  He scored his first series win of the season and became the 10th different driver to score wins this year holding off Willie Croft and DJ Netto.
Netto went into the Tribute to GP season finale needing to finish ahead of contenders Bud Kaeding and Dominic Scelzi in order to pick up his first ever KWS-NARC championship.  His Netto Ag sponsored No. 88n KPC would run as high as second after starting from the third position.
In the race within a race, the seventh starting Croft got around Netto, but he was still well ahead of Scelzi who was running sixth and Kaeding who was seventh.  Netto was briefly challenged by Mitchell Faccinto but the youth held his ground.  Neither Croft nor Netto were anywhere close to Golobic when he took the checkered.
The race's first yellow came out on lap 12 when Rico Abreu slowed on the track in turns three and four.  There was another quick yellow on the restart when Sean Watts spun around in the fourth corner.  He would go to the work area, where his car was repaired and he returned.  The race's final caution came out on lap 17 when Mark Barroso jumped the first turn cushion and spun off the banking.
The remainder of the race was all green flag laps with Golobic's only challenge being getting through slower traffic.  Faccinto and Scelzi rounded out the top five.  The second five to cross the checkered were Carson Macedo, Chase Johnson, Abreu, Kaeding, and Geoff Ensign.  Macedo earned the Swift Metal Finishing hardcharger award after starting 14th.
Golobic also earned the ARP Fast Qualifier award, one of only two drivers in the 12-second bracket on the 4/10th mile oval.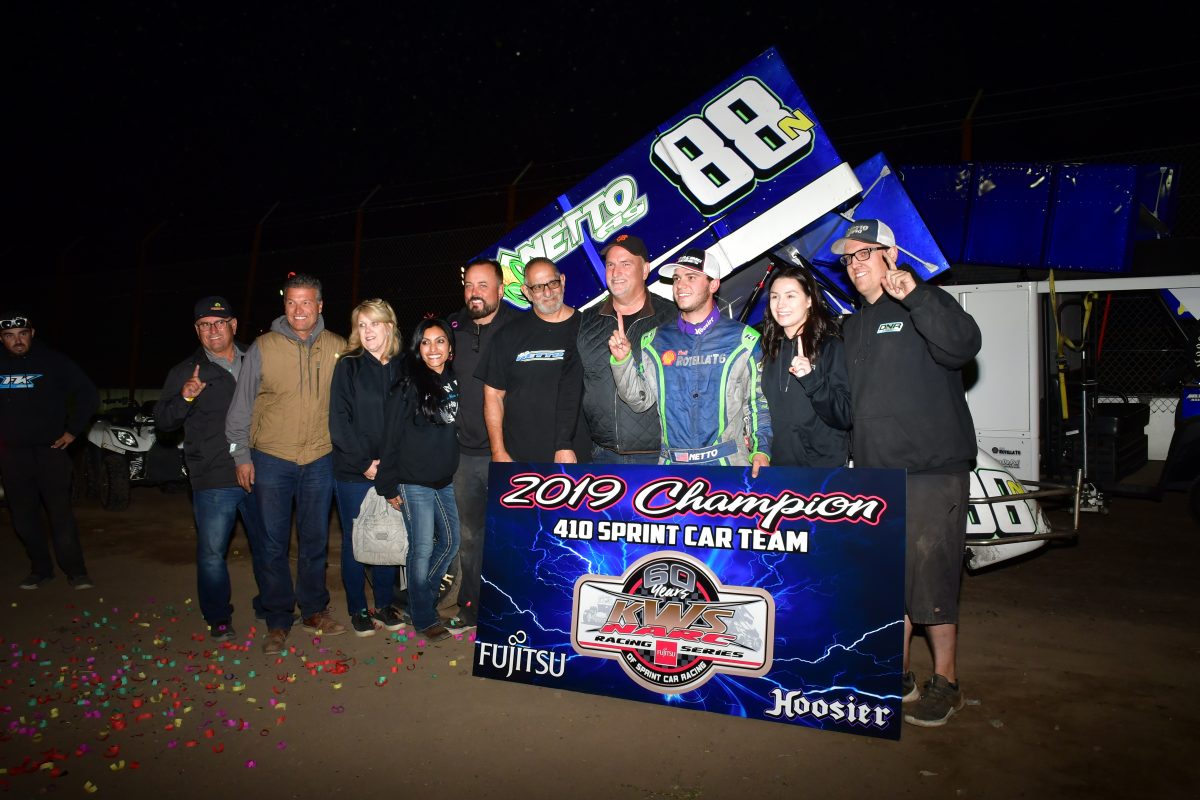 FUJITSU FEATURE EVENT (30-laps):  Shane Golobic, Willie Croft, D J Netto, Mitchell Faccinto, Dominic Scelzi, Carson Macedo, Chase Johnson, Rico Abreu, Bud Kaeding, Geoff Ensign, Jason Statler, Sean Watts, Craig Stidham, Nathan Rolfe, Mark Barroso, Pat Harvey, Andy Gregg, Kenny Allen
LAP LEADERS:  Golobic 1-30
ARP FAST QUALIFIER:  Golobic – 12.885 seconds
BROWN & MILLER RACING SOLUTIONS FIRST HEAT (8 laps):  Chase Johnson, Shane Golobic, Bud Kaeding, Willie Croft, Jason Statler, Pat Harvey
FK ROD ENDS SECOND HEAT (8 laps):   Carson Macedo, Mitchell Faccinto, Sean Watts, Rico Abreu, Nathan Rolfe
SPEEDSHIFT TV/MVP THIRD HEAT (8 laps):  Craig Stidham, Dominic Scelzi, DJ Netto, Kenny Allen, Geoff Ensign, Andy Gregg, Mark Barroso
SUNNYVALLEY BACON DASH (6 laps):   Shane Golobic, Mitchell Faccinto, DJ Netto, Dominic Scelzi, Chase Johnson, Craig Stidham